Save the date for our 15th Annual Northland Horse Fair to be held on Sat. April 4, 2020 in the Miller Hill Mall in Duluth, MN!   With our new venue we have more space for more horse related fun!  The Northland Horse Fair is the twin ports only horse expo event with guest speakers, vendors, demonstrations and of course horses!  Yes, even horses in the mall!  There are many exciting changes for this year and we can't wait to share all the fun activities planned.  Check our Horse Fair Page for all the exciting details!
Are you interested in becoming a vendor?  Please see our online registration for non-profits or businesses.
Our retail shop has moved!
Beyond the Barn is now open!  At the end of March of this year we closed our Superior store, Diamond Royal Tack, and re-branded and relocated to the Miller Hill Mall in Duluth, MN!   Our new spacious, 3000sf western boutique, boot store, and tack shop is all rolled into one convenient store!   We are open Miller Mall hours:  Mon. - Sat. 10am to 9pm and Sun. 11am to 6pm.   Our embroidery and leather repair are also up and running.  The closest mall doors to our store is Mall entrance #1 between JCPenny's and Men's Warehouse.  Our store is just a short walk down the main aisle and we are located between Roz and Ali and Champs.  If you have a saddle to bring in for repair or a large embroidery order to drop off we do have a closer shipping entrance so please call and someone can meet you with a cart out in front of the Mall.  
You can read all about our move and our name change in our brand new blog!   Check it out below: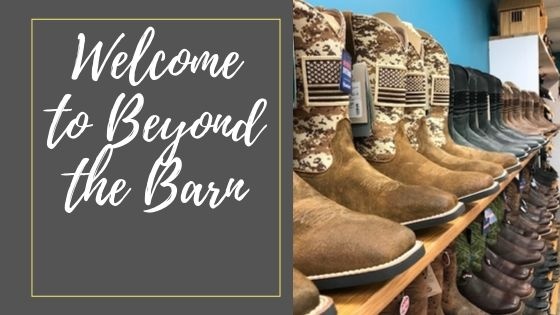 If you currently follow us as Diamond Royal Tack on Facebook, we would like to encourage you to also follow us at Beyond the Barn.   We will be active on both pages but Diamond Royal Tack will be mostly for online deals and website information and Beyond the Barn will pertain to our retail store and local events.  New product information will of course be shared between both pages!   We are also becoming more active on instagram and would love if you tag your favorite purchases from our store @beyondthebarn_duluth.  
Want to know what's coming up or if our mobile unit is on the road?  Check out our event calendar to see what's going on!  If you would like your event added to our event calendar, just send us an e-mail.   All local and regional equestrian/farm community events are welcome!