Classroom Schedule
Classroom Schedule
We have a new classroom area at the store!  We've converted an area of the store into a comfy, spacious area for meetings, seminars, and classes.   We will host regular classes about once a month.   We're in the process of making it cozy and inviting so will add some pictures as soon as the decorating is done!   
In the mean time this page will be the on going schedule for our classroom.   When we don't have a class scheduled it will be available to rent for your club meetings, seminars or own classes.   We can provide AV equipment, food delivery, and private shopping for your event!
Make A Mystery Braid Bracelet!
Wednesday May 23rd - 5 to 7pm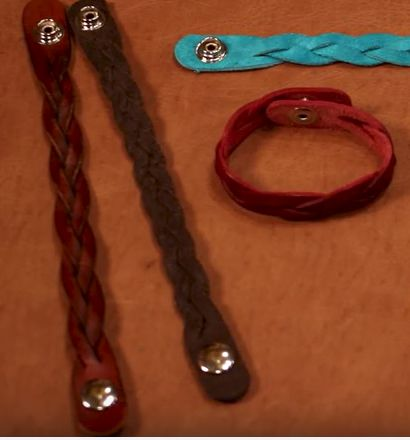 Our first official class will be held Wed. May 23 from 5pm to 7pm!   Learn how to make your very own Mystery Braid leather bracelet!   Molly will be teaching the class on making a leather mystery braid bracelet and cover some basic leather working tips such as types of leather, measuring, cutting the leather, decorating the leather, setting snaps, and of course, the mystery braid!  We will provide all the leather and tools you will need.  You get to choose which leather color you would like and how you want to decorate it,   Follow along the steps during the class and at the end you get to wear your brand new leather bracelet home!