What's New
It's been a whirlwind summer getting into our new space in the Miller Hill Mall while still visiting as many shows as we could with our mobile unit.   It was a bit of a struggle to keep the inventory stock up and we're still adjusting as we figure out our new normal in Beyond the Barn.  We had a flurry of new products come in just after our Grand Opening in August and they haven't stopped since.   Fall apparel, new boot styles, new shoes, home decor, toys, kid's apparel, horse blankets, tack... the list goes on of new items arriving every day.  
Some of our frequent shoppers may have noticed the higher turn-over rate in our new space.  While we have lots of new things coming to take a sold-out items place, we want to remind you that if you love it - don't wait!   We heard a lot of folks lament about the item they saw when they were in the shop a week or two ago and now is gone or their size is out.   We do our best to plan for great sellers but many of our apparel items are limited, seasonal, or just plain sold-out from the manufacturer, so don't miss out on that special, gotta-have-it item.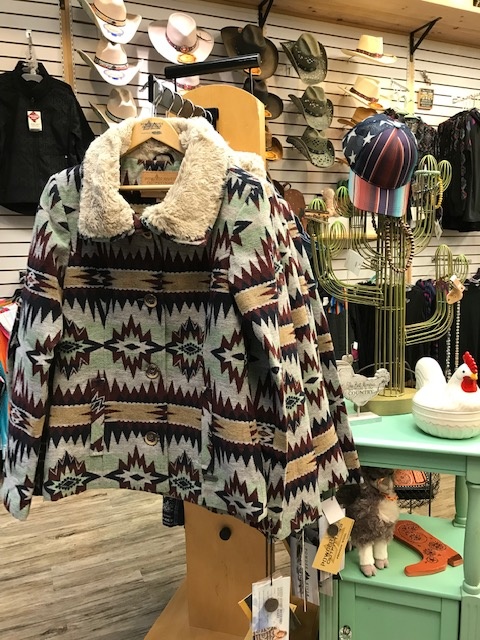 Fall Riding Boots and New Styles
With colder weather approaching a lot of us are thinking about staying warm this winter or replacing worn out winter boots or coats.   We have a great selection of new styles for this Fall.  We've tried hard to get in products that come with great reviews or are brand new and innovative.  
We've always liked Ovation winter riding gear and the new Telluride Winter Boot has to be one of our favorites!   Featuring a lace up front for that perfect fit, the Telluride winter boot will keep you comfortably warm in and out of the saddle. It has a grippy TPR rubber sole that is waterproof to the top of the foot, paired with a polyester canvas upper that is Teflon treated to repel water and mud. The back zipper allows for a quick on and off and is flanked by neoprene for flexibility and stretch.
We had a lot of requests for a paddock boot this summer and are happy to say we finally have one in stock for ladies and youth.  The Ovation Quantum is a great economical riding boot option!  Made from durable premium Vega synthetic leather, it overs the feel of a real leather boot without the cost or care requirements while still being long lasting and comfortable. 
We haven't forgotten about Men's boots or clothes either.   New styles include the Circuit Patriot in both brown and black, which takes the popular Patriot flag design and steps it up to a premium full grain leather construction with a full leather sole, and the Workhog XT Coil Carbon Toe boot, which delivers maximum side-to-side stability plus superior cushioning and shock absorption. Loaded with comfort and durability, it's designed to withstand harsh outdoor work environments and oil and gas exploration.  
Outerwear and more
One thing we weren't able to expand on in Superior that we can now carry more of at Beyond the Barn is outerwear!   There's so many options from the name brands we carry and we know our customers will love to feel the cozy fleece, try on the amazing fits of new technical fabrics, and marvel at how lightweight and comfortable these new styles are!  Plus with our competitive pricing you can still be sure you're getting a great deal.   Some of our favorites include soft shell options from Ariat for Men's and Women and Powder River Conceal & Carry style vests and jackets. 
Gifts, Home Decor, and Jewelry Oh My!
We can't even begin to go over all the new home decor and gifts in stock in just one paragraph!  We'll do a blog just on gift items next month in our Holiday shopping guide.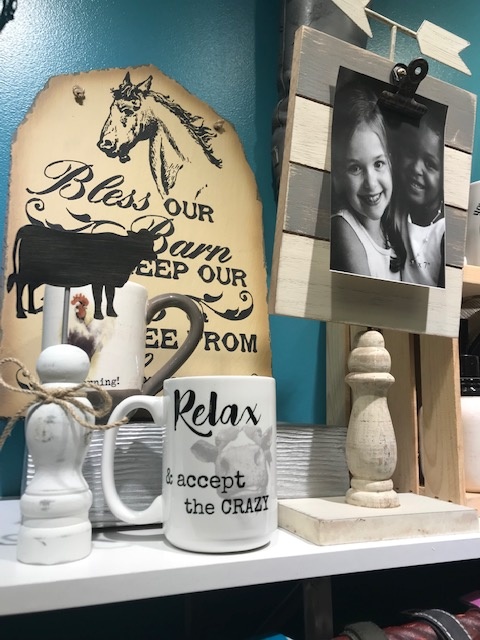 New collectibles from Breyer model horses deserve a mention as a couple of our new models are limited editions and only available while supplies last.  We've gotten in Lightning Ridge, Khalid, and the new Halloween horse, Samhain as well as a great assortment of new traditionals and classics.   
Have you seen the Duke at the Beyond the Barn?   You really can't miss the life size cardboard stand out of John Wayne on our new John Wayne Duke cologne display.  A limited edition scent and prepacked in a collectible gift box this item with definitely be in our Holiday guide next month.    We also got several other new perfume and cologne fragrances in.
Jewelry changes weekly normally but we do have some new western accessories like hat bands, bolo ties, and wild rags that just arrived as well.   The aztec, serape, and bling is scattered throughout our store and we hope you take the time to shop though our many fun displays. 
As always, be sure to follow us on Facebook and Instagram to hear about new arrivals first!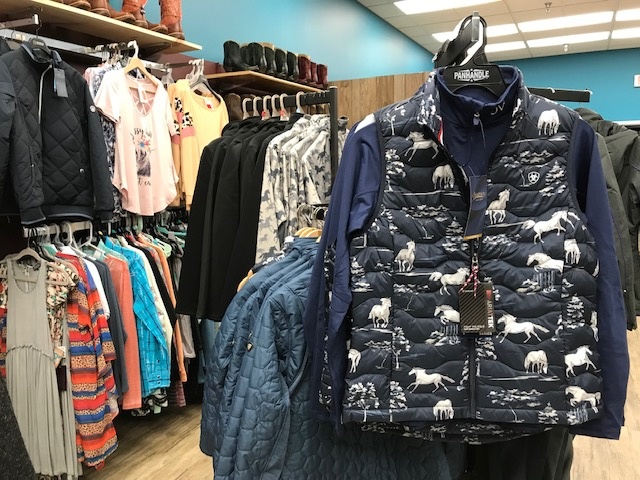 See all the newest arrivals here!